WellCaster provides wellness programs designed by industry leading professionals. It features a build-and-distribute system to aid the experts in their program development. An iPhone application is available to subscribers to follow and ensure commitment.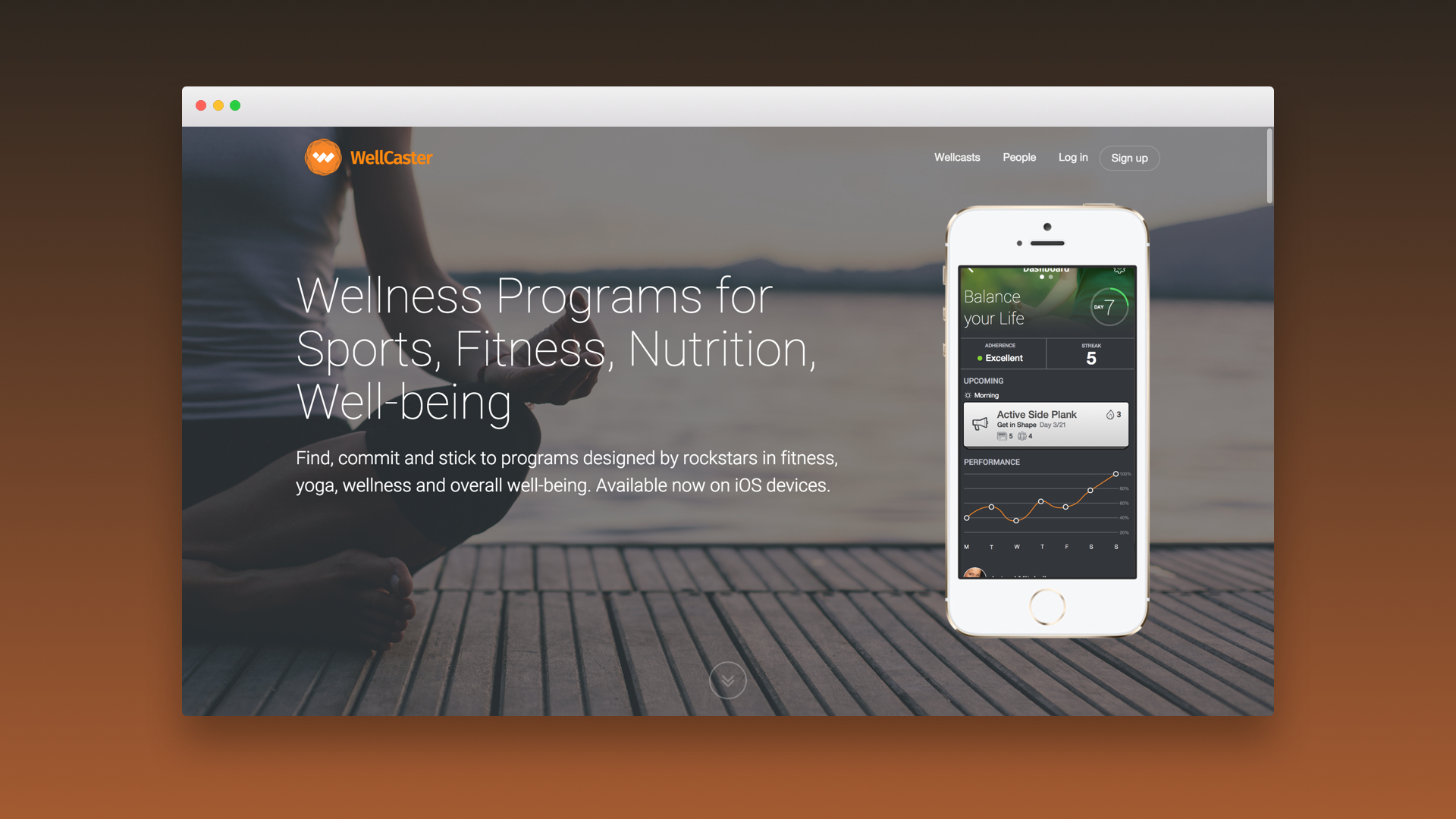 Wellcaster features an advanced ecosystem allowing multiple layers of content to be published or consumed by the designated authors or clients.
Codeberry's personnel was gradually involved in creating or fine tuning all "living organisms" of the technology stack. Started with branding, UX/UI and concept development through leading a team of iOS developers to ensure a very rapid and timely development process.
Branding
Brand creation and indentity establishment were dictated by the nature of the startup field of activity. The requirements were to set up a mark that is light and recognizable. Iterating overlapping circles, combined with several blocks aligned to resemble the letter W (reminding of situps) and mixed with more energetic orange and dark-gray colors. This combination shaped the initial identity and the modern Fira Sans font was a perfect match.
Later in the project, a slight re-design of the logo was introduced for internal and beta testing process with reversed color scheme and slightly rounded lines.
Iconography
The product niche required uniqueness in its iconography and illustrations. In partnership with a talented illustrator Ema Dimitrova we created a custom set of 60 icons, that were later converted into a custom icon font to be used in the application.
Another set of fitness and wellness illustrations were created and added to the website to help better explain the idea and the business. Its thin lines, combined with selective coloring, extends the informative content and makes it more eye pleasant.
Product Builder
WellCaster's Program Builder is one of the most unique modules of the platform. Designed to be modern and intuitive, its easy to use interface allows for quick content creation and delivery. The Product Builder's UI was architected to combine multiple components within an easy reach. Calendar, activities, access to library elements, categorization and media elements could be added to a program without leaving the workspace. Its step-by-step guidance allows the user to partially complete a program and continue from right where she or he left off.
Truly remarkable interface designed for the best possible UX.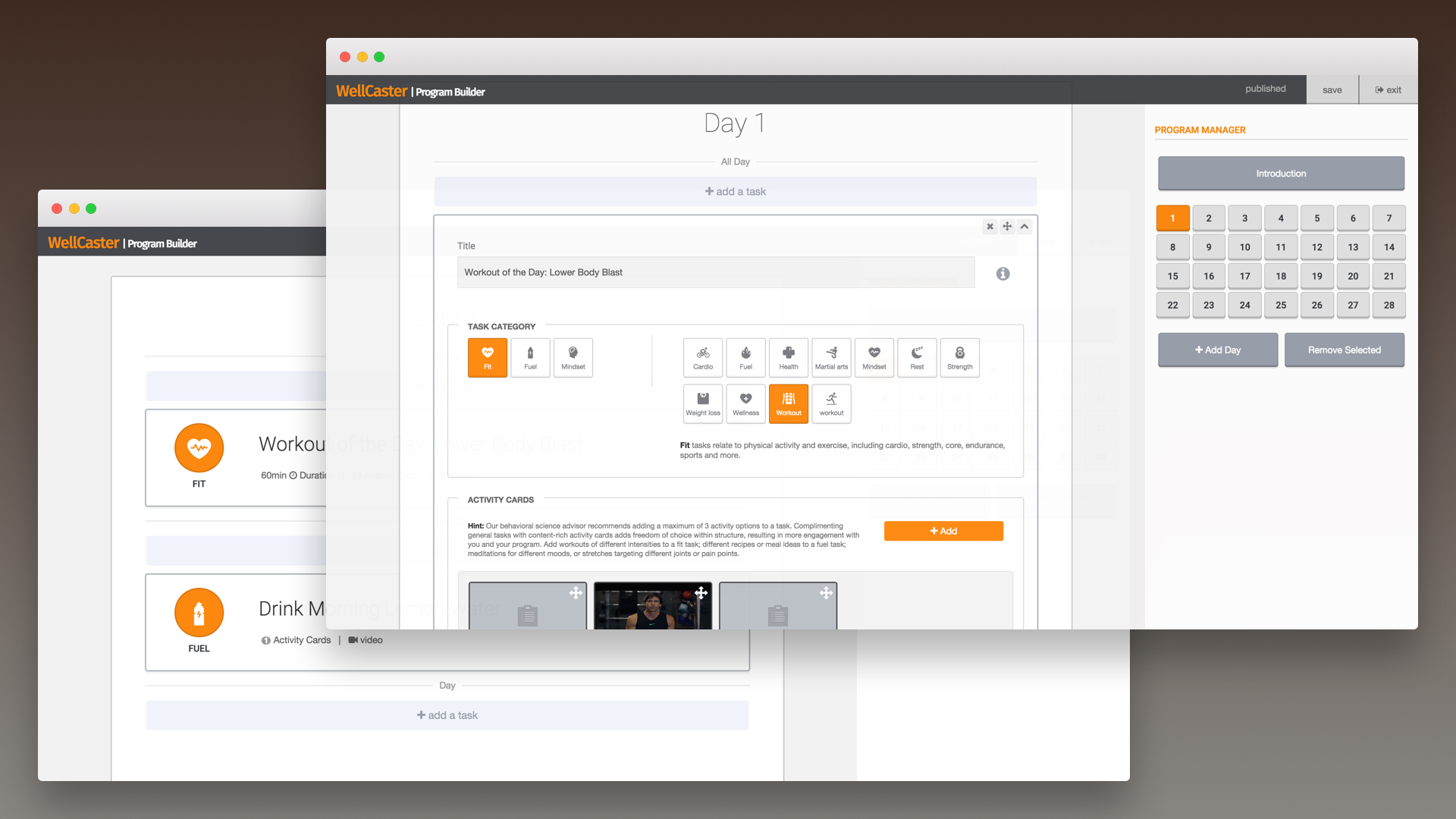 Media
WellCaster is media rich, therefore it needed to handle it's media sources as seemlessly as possible. The back-end was designed to distribute media (video, images, audio) separately from the source. Uploaded content is handled by WellCaster's encoding mechanisms and made available for all devices. Sourced media comes as provided, yet the front-end is entirely decoupled and source independent. All media assets could be used within any of the internal part of the application backed and optimized by a solid cloud architecture.
WellCaster App
WellCaster is an app that allows consumers to purchase and experience wellness programs on their mobile devices. The entire flow and interface was carefully detailed and planned in accordance with the product requirements. Over 100 wire frames were produced and approved prior to diving into each design element and user experience.
The user interface was designed to accommodate a large amount of media rich content. It features multiple components designed to work in coherence. Many design elements were based on "real-life" examples to aid the user in an intuitive interaction.
WellCaster app was rapidly developed by our iOS ninjas.